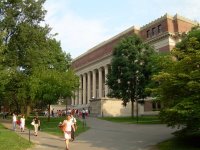 LinkedIn recently updated its privacy policy and terms of service, after launching LinkedIn for Education. Here's the rundown on what these changes mean.
Overall, I think the changes are good news. Most of us think of LinkedIn as a social network for professionals or jobseekers, but it's really more of a network for anyone interested in the future of their careers. So it makes sense that LinkedIn has opened its doors to students under the age of 18 (age 13 and older; 14+ in the US). The earlier kids start thinking about what they want to do with there lives–and finding liked-minded individuals as well as mentors–the better.
Facebook started out as a college social network, but now it's emphasis is more on the social and less on the college part, so LinkedIn can also fill the void for college students looking into their career prospects. ReadWrite had a great post back in April called Dear College Students: LinkedIn Is Not The Same As Facebook, in which the author, Brian S Hall, notes the reasons why college students aren't using LinkedIn even when they should be–and how LinkedIn needs to do more for students while colleges need to help students learn how to use LinkedIn. The introduction of LinkedIn University might help.
So with its broader focus on the younger crowd (LinkedIn's core demo skews towards the older generations), the social network had to update its privacy terms. For members under the age of 18, there will be different default settings and special support ticket routing, according to LinkedIn's blog post.
For all members, LinkedIn's privacy policy changes include these updates:
We have shortened the amount of time we store personal or location (IP address) data obtained through our off-site plug-ins (like the LinkedIn Share button) – and we now delete this information as soon as possible (as it comes into our system), and at the most, within seven days.
We have updated the privacy policy to cover the data sharing that occurs when you choose to bind your SlideShare and LinkedIn accounts.
We have updated the section of the privacy policy that allows what LinkedIn can suggest to you based on the data that you have chosen to upload from your email address books.
The most interesting part is that last bullet. What does LinkedIn do with the data it gets when you choose to connect your email address book? Well, it seems like the change is specifically to suggest people you could connect to based on your contacts' connections (whether on LinkedIn or not):
Section 1.4.: We explain that we use your uploaded address book information to recommend connections to you "and others", including showing you and other LinkedIn members that you share the same uploaded contacts who may or may not be LinkedIn members, in order to help you build your network and be better connected. We also changed the explicit reference to "Rapportive" to refer to LinkedIn software tools in order to accommodate branding changes and new products in the future. We also removed some duplicative language from this section.
Makes sense. After all, LinkedIn is all about that "I know a guy who knows a guy who knows a guy" who could possibly be a big help in your career, whether you're a high school/college student or someone with thirty years of work experience.