LinkedIn groups come in two flavors: open and members-only. Open groups are exactly that — anyone can join at any time. Content posted in open groups is visible to anyone on LinkedIn and also indexed for search. In a members-only group, content is only visible to group members. If a LinkedIn group is members-only, you will see a tiny lock icon within its description in the search results.
To join an open LinkedIn group, simply click the Join button next to the group in the search results or on the group's page. To join a members-only group, you will also click the Join button. However, depending on the group's settings, a group manager may need to review your LinkedIn profile and approve you for membership.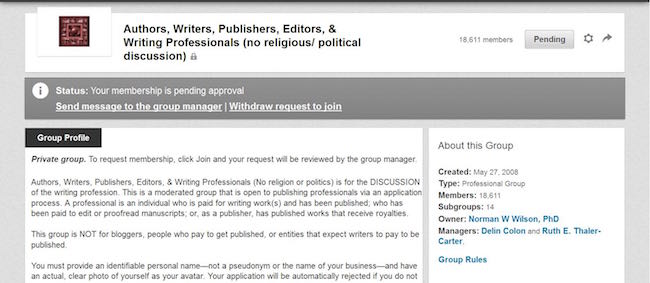 You Got In; Now What Should You Do?
LinkedIn will allow you to join up to 50 groups. However, membership in so many groups is unlikely to benefit you much unless you are an active participant. For this reason, I'd suggest joining no more than 10.
Focus on groups that are most relevant to your industry, career, or interests. Avoid those that are not well managed; they tend to be filled with professionals who are only interested in self-promotion. The spam they post adds nothing to the conversation, and can be a distraction if you are notified every time someone adds a new topic.
How you choose to participate in a group is up to you. Options which that should yield favorable results (by enhancing your professional reputation, increasing invitations to connect, or catching the attention of potential employers) include:
Answering questions other group members have asked.
Asking thoughtful or stimulating questions of your own.
Posting links to articles other group members will find interesting.
This excerpt is from LinkedIn In 30 Minutes, 2nd Edition, by Angela Rose. Learn more about the book or purchase a copy here.