So you have a LinkedIn profile, but maybe you are not ready to take it public just yet. Perhaps you have decided you want to add another email or a phone number to your account. You may even want to change your LinkedIn password at some point. This post explains how to change LinkedIn Privacy settings for your account.
To get started, log into LinkedIn.com. All of these settings will be adjusted from the Privacy and Settings dropdown under the Account and Settings icon (the miniature version of your LinkedIn profile photo) on the LinkedIn toolbar.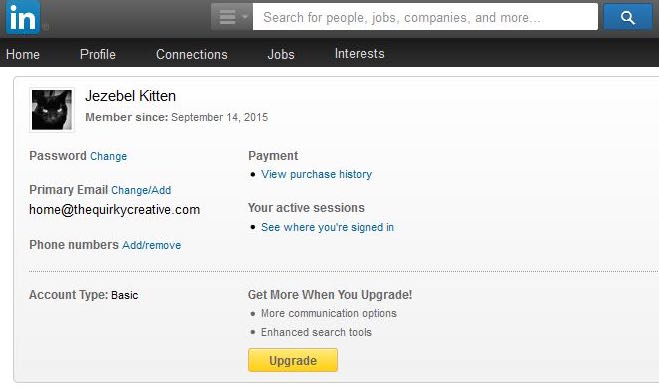 As you can see, there's a lot you can do from this page. Feel free to explore your options by clicking on any of the links displayed on the Profile, Communications, Groups, Companies & Applications and Account tabs. Here are five that you should consider changing right away:
Profile: Turn on/off activity broadcasts – If you would rather not fill your connections' network feeds with updates every time you make a profile change, you should uncheck the box for broadcasting profile activity. You can also do this by flipping the toggle in the Notify your network? checkbox on the profile editing page.
Protip: Turning off your activity broadcasts is also a wise move if you are currently employed and do not want your coworkers or employer to know that you are looking for a new job. Updating your profile may be seen as an indication that you are planning to change companies.
Profile: Select who can see your activity feed – The default setting is Your connections, but if you would prefer to keep new connections, likes, and comments made on other members' posts private, set this to Only you.
Profile: Edit your public profile – Click on this link, and you will be brought to your public profile page. On the right-hand side, you will see options for who can view your public profile. If you would rather keep your work-in-progress under wraps for now, select Make my public profile visible to no one. This will prevent your profile from becoming searchable on the web.
Note: Even if you are hidden to people using Google or other search engines, other LinkedIn members who search for you on the site will still be able to view your profile — all the more reason to make it great!
Communications: Set the frequency of emails – If you feel like LinkedIn is sending you too many email messages, you can change your email settings. While most people want to be notified when they have received an endorsement or a message from another user, group notifications and marketing from LinkedIn can overwhelm your inbox.
Account: Manage advertising preferences – LinkedIn — like every other social media network — likes to know what you have been doing online. If you don't want them to track your web browsing activities and show you targeted ads, you can change this setting here.
This excerpt is from LinkedIn In 30 Minutes, 2nd Edition, by Angela Rose. Learn more about the book or purchase a copy here.