There are numerous ways to find professionals to connect with on LinkedIn. In addition to importing your email address book during the registration process, you can find Connections on LinkedIn via the following methods:
Visiting the Connections page by clicking on Connections in the LinkedIn toolbar. LinkedIn will suggest professionals for you to connect with based on your imported email address books, your employer, groups you belong to, and other people in your network.
Clicking on Add Connections in the Connections toolbar dropdown menu. LinkedIn will walk you through importing your email address book or books.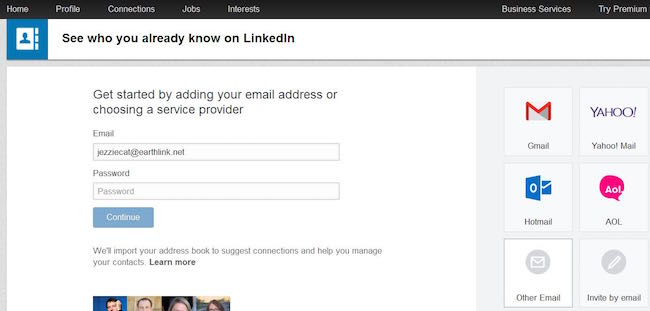 Selecting Find Alumni in the Connections toolbar dropdown menu. LinkedIn will show you members who attended any university or college during the dates you select.
Using LinkedIn search. Find the search field in the toolbar, type in a name, click on the magnifying glass icon, and LinkedIn will generate a page of results.
Help! I don't know who I should connect with
If you are unsure where to start, try searching for the names of current and former colleagues, clients, vendors, and service providers. Classmates, mentors, and people you know from religious, military, or civic organizations are another source of connections. Of course, you can connect with friends and relatives as well — and doing so can help you get your connection count up to the 50 required for a "complete" profile.
However, you should generally have a good reason for asking any LinkedIn member to connect with you, particularly if you have never met or worked together. Maybe you are in the same industry. Perhaps you belong to the same professional organization. You may have interests in common. While LinkedIn allows users to build networks as large as 30,000 people, there is really no need to do so. You will get the most benefit from the social media platform when you target your niche, not when you go after anyone and everyone just to get your numbers up. LinkedIn changes the display to "500+" when your network reaches that level, so you will not get additional public bragging rights if your network grows into the thousands.
Note: If you send too many invites that are rejected because the member selects "I don't know this person," LinkedIn may suspend your invitation privileges.
This excerpt is from LinkedIn In 30 Minutes, 2nd Edition, by Angela Rose. Learn more about the book or purchase a copy here.