What is LinkedIn? Definition and use cases
What is LinkedIn? Simply put, LinkedIn is the world's largest professional network, with hundreds of millions of members in nearly every country on Earth.
Students and recent college grads are the fastest growing demographic on LinkedIn. The social media network also has more than 80 million members between the ages of 30 and 49. More than 100 million members are 50 years of age or older.
How are they using their profiles? Here are just a few examples:
Duane is an account rep for a manufacturer of construction equipment. A frequent trade show attendee, he uses LinkedIn to learn more about the professionals he plans to network with on his trips . . . and later uses LinkedIn to maintain connections afterward. This has helped him land new accounts as well as forge relationships that may prove valuable when it's time to take the next step in his career.
Samantha is a recent college graduate with a degree in human resources management. She is currently interviewing for jobs as a payroll administrator. She uses LinkedIn to learn more about the companies she is visiting as well as the professionals conducting the interviews. Thanks to the keywords in her profile, she has been approached by a number of recruiters for jobs she otherwise wouldn't have heard about.
John is a freelance graphic designer. While he hasn't had a regular 9-to-5 job in the last decade, he has used the experience section of his LinkedIn profile to feature several of his current and former contract projects. With dozens of recommendations and hundreds of endorsements, his profile enhances his professional reputation.
Amanda was laid off in December, and she has been using LinkedIn to search for a new job in the healthcare industry. A registered nurse, she has connected with the hiring managers at several local hospitals using InMail. She is a member of a half-dozen nursing- and healthcare-related groups. She regularly participates in discussions to increase her visibility. Amanda has also spent time enhancing her LinkedIn profile with a current, professional photo and keywords to improve her search ranking.
Robert is a retired fireman. He's not interested in going back to work full-time, or even part-time. However, he likes to see what former colleagues are doing. He also wants to stay current on the latest news and developments. Robert uses LinkedIn to connect with other public safety professionals, learn new information about the field, and share his experience and opinions with the members of related discussion groups.
Are you ready to get started with LinkedIn?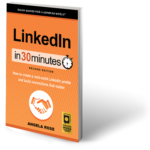 Whatever your age, profession, or employment status, you are almost certain to benefit from learning to use LinkedIn—and doing so is surprisingly easy.
It doesn't matter if you are a complete newbie or a frequent social media consumer, LinkedIn In 30 Minutes will show you how to navigate the LinkedIn platform, register for a free account, set up your profile, connect with other members, join discussion groups and search for jobs—all in the time it would take to watch a dozen YouTube cat videos.
We only have 30 minutes, so let's get started!
To read the rest of the book, purchase the paperback or ebook editions here.