If you are getting tired of having LinkedIn notifications, emails, group digests, and other reminders hitting your inbox, you will appreciate the video below, which shows you how to turn off LinkedIn notifications.
This is particularly useful for people who have just signed up for LinkedIn and are still figuring out how to use LinkedIn's many features, as well as for people who have lots of connections or belong to lots of groups. LinkedIn can trigger notifications for all kinds of events, including:
Someone requests to make a connection with you
Someone accepts your invitation to connect
A connection sends you a message
You receive an invitation to join a group
Someone in a group posts a message, or responds to one of your posts
People in your network update their job details
You receive endorsements or recommendations
LinkedIn sends you announcements
These messages and alerts soon become tiring — while LinkedIn is a wonderful networking tool, most of the notifications do not require immediate action.
It is impossible to turn off the notifications by simply returning the email with "UNSUBSCRIBE" in the subject field. Instead, LinkedIn wants you to adjust each type of messaging manually. To do this, you have to go to the LinkedIn settings and click on Communications (shown in the screenshot below) and then follow the instructions shown in the video to alter the frequency of notifications (for instance, to set up some of the notifications so they come in a single weekly digest) or turn off notifications altogether.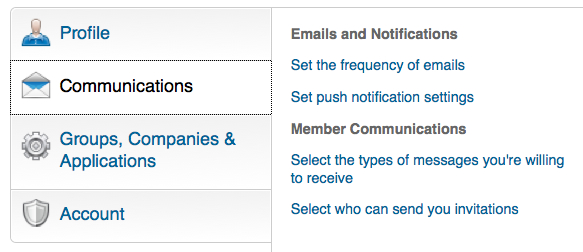 The information in the video complements LinkedIn In 30 Minutes: How to create a rock-solid LinkedIn profile and build connections that matter, by author Melanie Pinola. The guide contains many other useful tips and tricks that will help you get the most out of LinkedIn, ranging from basic profile setup to accessing the hidden job market on LinkedIn. If you're interested in purchasing a copy in paperback form or for tablets such as the Kindle, iPad, and Android devices, visit this page.