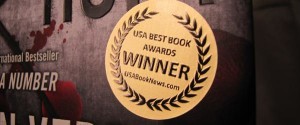 The In 30 Minutes team is pleased to share the news that LinkedIn In 30 Minutes has been named the award winner in the Business/Career category of The 2013 USA Best Book Awards! The guide, written by Melanie Pinola and available in ebook and paperback editions, helps readers supercharge their LinkedIn job-seeking and networking efforts. As you can see from the list of winners on the USA Book News website, the USA Best Book awards are a big deal, with submissions from both indie and large publishing houses in dozens of categories.
There are so many positive things I could say about Melanie, ranging from her incredible talents as a writer to her dedication to the publishing process. In terms of endorsements of the guide, I think it's best to turn to some of the real reviews that readers have left on Amazon, Goodreads and elsewhere:
After reading this book (it's a short and super-fast read), I logged into LinkedIn right away and immediately applied some of the author's advice to improve my profile. Much of what is in the book is common sense but there are lots of easy, simple suggestions on how to get the most out of LinkedIn, whether you're looking for like-minded people or mentors in your industry, job-seeking, or simply trying to advance your career.
I already had a LinkedIn account, which I use on a regular basis, but still found the book very helpful. The author gave examples and explained why it is important to detail and promote your account. Reading this book has motivated me to return to my account and update it to make it more thorough and attention-grabbing.

I especially liked the information about connecting with other people and the ideas of how to connect with people who can help you gain information and job leads, even if you don't personally know them. This is beneficial to everyone who is looking for career leads.
I was looking for a guide to LinkedIn when I realized that the author of this book is one of my favorite writers for Lifehacker! Always loved her advice and resourcefulness, so I wasn't surprised that she wrote this book for the mass of people who are looking to get the best out of the LinkedIn service.
Thanks Melanie, for writing such a great guide, and congratulations on winning this award!